Does Your Organization Have the Right Strategy Execution Capabilities?
While businesses have spent more than a trillion dollars on business management consulting and training in the past decades, research shows that a large majority of organizations are still failing to execute their strategies effectively.  Strategy execution is still a hot topic in 2017.  In fact, the Conference Board's Survey of CEOs revealed that chief executives are so concerned about strategy execution that they rated it as both their number one and number two most challenging issues in 2014. We believe that one of the root causes of this major issue continues to be the lack of a coherent strategy execution process at the leadership and executive management layers!
Why? Many organizations are missing several crucial process disciplines (see Strategy Execution Systems below) necessary to manage the interfaces of the enterprise and are not getting to the core strategy execution questions that would enable successful strategy management practices (such as strategic planning, integrated execution planning, and project portfolio management) to get the right work done. Furthermore, Richard Rumelt, a professor at UCLA's Anderson School of Management points out, "Most corporate 'strategic plans' have little to do with strategy. They are simply three-year or five-year rolling resource budgets and some sort of market share projection. Calling it 'strategic planning' creates false expectations that the exercise will somehow produce a coherent strategy."  One can easily give up trying to define the complexities of strategy execution as this core process touches almost every single organization function.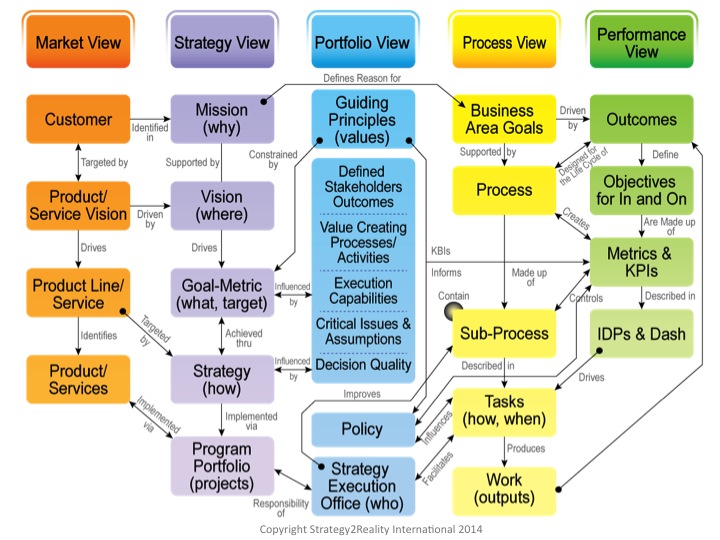 The Strategy Execution Systems
Our approach to define the right strategy execution capabilities, involves assessing your current management systems and then co-creating the right linkages and processes between key areas of an enterprise's business functions and the appropriate capabilities required to execute you chosen business model.  The strategy execution framework process for these organizational performance systems is discussed in my book Executing Your Strategy published by the Harvard Business School Press and is based on a leading Stanford University executive education program called Advanced Project Management.
Where to Start? In order to realize the benefits of any strategy execution framework you might adopt, we have developed 12 Strategic Planning and Alignment Workshops which are designed with some of the best research-based planning practices in business. We use an innovative set of group facilitation techniques and methods such as visual-based strategy execution mapping, design thinking to validate customer outcomes, integrated project planning (in the context of your strategic portfolio), and step-by-step structured dialogue to promote the discipline of strategy execution leadership. This discipline leads to contextual-based organizational engineering and strategic clarity, two fundamental success factors for executing your business model value discipline and how you create competitive advantage.
Look at my new forthcoming Book – Chapter 1 – Getting Real about Strategy Execution Leadership!  I am writing a serial digital book about the many challenges of applying management practices in an organization and how implementing a strategy can become more clear through common sense and the incremental building of capabilities specific to your business model and context.
Executing Your Strategy is also published in the Thai language at www.expernetbooks.com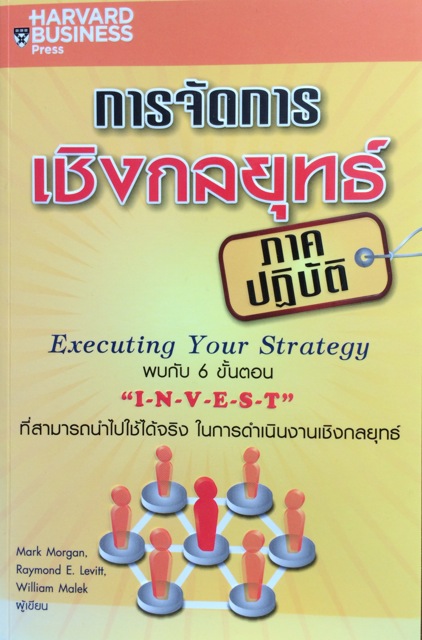 "Without question William is one of the most effective facilitators of the strategic planning process that I have seen. He successfully led nearly 40 senior leaders through strategy design for one of our most complex, cross-functional initiatives to date. William knows strategic planning extremely well, is capable of leading diverse groups through the process, and has the talent of making it all fun." Michelle Fleury, Senior Director, Cisco Systems