Center of Excellence for Strategic Planning Facilitation
To support the processes of a Strategy Execution Office (SEO), S2R has developed the core strategic planning facilitation capabilities for training internal performance improvement facilitators and strategy execution consultants in the organizational alignment workshops required to plan, execute, and lead the strategic change projects required for executing any strategic plan or major program. This is the rapid path of strategic organizational development!
The illustration below is a high level overview of our strategy execution process model that operationalizes the principles of effective strategic planning, project portfolio management, culture and structure alignment, enterprise performance management, and continuous improvement. Each of these lifecycle elements may warrant critical planning workshops that must be conducted and we assert, facilitated effectively, to achieve the maximum benefits of each phase. This end-to-end strategic facilitated business process can be applied to any large enterprise strategy planning event or even to a major program or change initiative that has signicant implications to an organization.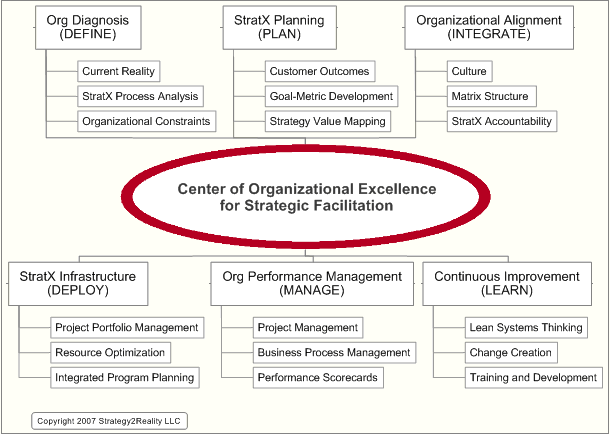 Call us to discuss our strategy consulting practices and how we approach planning and implementing any initiative or project!